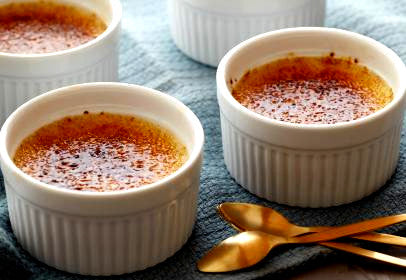 Ingredients
1/2 cup sugar
7 tablespoons honey
1 can sweetened condensed milk
1 cup milk
3 large eggs
1 large egg yolk
1/4 teaspoon salt
How to Make It
Preheat oven to 350° (180

° Celcius)

. Sprinkle sugar in a 3-qt. saucepan; place over medium heat, and cook, gently shaking pan, 4 minutes or until sugar melts and turns a light golden brown. Slowly stir in 3 Tbsp. honey. (Mixture will clump a little; gently stir just until melted.) Remove from heat; immediately pour hot caramelized sugar into 6 (6-oz.) ramekins.
Process condensed milk, next 4 ingredients, and remaining 4 Tbsp. honey in a blender 10 to 15 seconds or until smooth; pour evenly over sugar in each ramekin. Place ramekins in a 13- x 9-inch pan. Add hot tap water to pan to a depth of 1 inch. Cover loosely with aluminium foil.
Bake at 350° for 30 to 35 minutes or until slightly set. (Flan will jiggle when pan is shaken.) Remove ramekins from water bath; place on a wire rack. Cool 30 minutes. Cover and chill 3 hours. Run a knife around edges of flans to loosen; invert flans onto a serving plate.
About the Chef
Dion McGrath
麦迪安
Consulting Chef
New Zealand Trade and Enterprise
Shanghai, China
中国顾问厨师